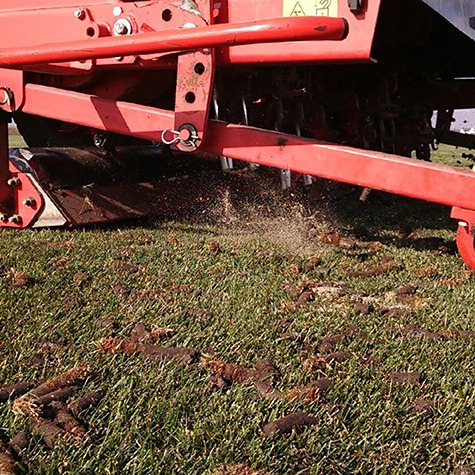 Four Seasons Yard Care offers expert turf management and mowing for all types of sports complexes: baseball, softball, football, lacrosse, soccer, and multipurpose fields. We also have the expertise and equipment necessary to maintain golf courses.
Our sports field maintenance service is offered in and around Pella and Des Moines, Iowa.
Services for sports fields and golf courses include:
Overseeding
Deep-tine aerification (6-8 inches)
Top-dressing fertilizer
Verticutting and aerification
Why partner with Four Seasons Yard Care for sports field care?
We understand the importance of limiting compaction.
We know wider paths mean less compaction, which is crucial for the health and playability of sports fields. Our widespread top-dresser throws fertilizer 35 feet. On a typical baseball field, for example, our equipment can get the job done in just two passes. With more typical, smaller-scale equipment, the job takes eight trips around the turf.
Our equipment is efficient: GPS-controlled and diesel-powered.
Our mowing and fertilizer equipment uses GPS technology to ensure efficient, effective service time after time.
Using GPS mapping:
We apply only the amount of fertilizer needed with little overlap for even, lush results.
Our mowing patterns meet sports facility managers' and groundskeepers' exacting standards.
Our mostly diesel fleet is well-maintained and fuel-efficient—savings we can pass on to you through affordable rates.
We take a common-sense, customer-first approach.
Over the years, our team has built an understanding of the unique needs and challenges sports facilities face in maintaining turf. We won't show up just to do the job. Our crews will assess your fields' conditions and needs when we arrive. If there are concerns or suggestions, we contact you to make a plan that works before proceeding.
We have the equipment necessary for golf course maintenance.
Bunker sand replacement. Four Seasons Yard Care has a material handler capable of hauling the amount of sand needed to refill your bunkers.
Aerification. Highly trafficked greens demand regular aerification to maintain a healthy root system and relieve compaction. Our deep-tine aerating equipment keeps greens in prime condition.